Featured Item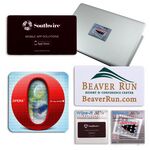 Wipe-it Now Screen Cleaner - Tablet Size...
Wipe-It Now screen cleaner...always available for a quick wipe! New tablet size safely and completely cleans and polishes the screens of tablet computers, IPads, and E-readers. Also cell phones, MP3 a...
$2.80 - $3.50
Welcome!

Promotional Products, Corporate Gifts, Trade Show Giveaways… With Purpose! Located in central Minnesota, GLM Promotions is your one stop shop for all your promotional products needs! At GLM Promotions, we are dedicated to the proper use and implementation of promotional products that generates results for you and your company. We want to help you develop the right promotion with a specific goal or purpose, where true R.O.I. can be traced. Need to promote an upcoming event? Want to bring more people to your booth at a trade show or expo? Need to convert prospects to clients? Promotional products can help you with these goals and many more. Our job is to help you find the best promotional product as well as the implementation of the promotion that will best achieve your goal. In short, we offer promotions with purpose. You can browse our website with thousands of promotional products or simply contact us by phone or email. We would love to discuss with you YOUR goals as well as offer solutions that fit your needs and budget.